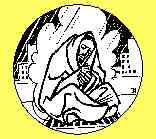 metamorphosis
Clarity - a moment of revelation
apparentness in continuation,
each individual life contains a light of its own
and benefits the armor of our perception
in whose light we travel alone.
---

bio:
Death rattle

The sun melted into dawn
through the fading light stood a regressing statue
Each step an eventual graveyard
each boundless yard an act of survival
every carcass a monument to its struggle
As the black pool of its eyes
diminishes into vessels of blood
bleached by the sun, the once thin green
armor of its body had merged with the elements
to fuse a rustic looking shell
As autumn slowly vanquishes youth
and the tundra's skeletons are reflecting mirrors
and existence is no more than a stiff bronze gorse
with skin compressed and masoned from a stone
that had been cast into the sun
as its rolls its molten head nostalgically
at the sight of a swallow.
Perched within the train of berries
and velvet tops of trees, its blood
stained chief reaps the array of morning's fruits.

Mend With the Wind